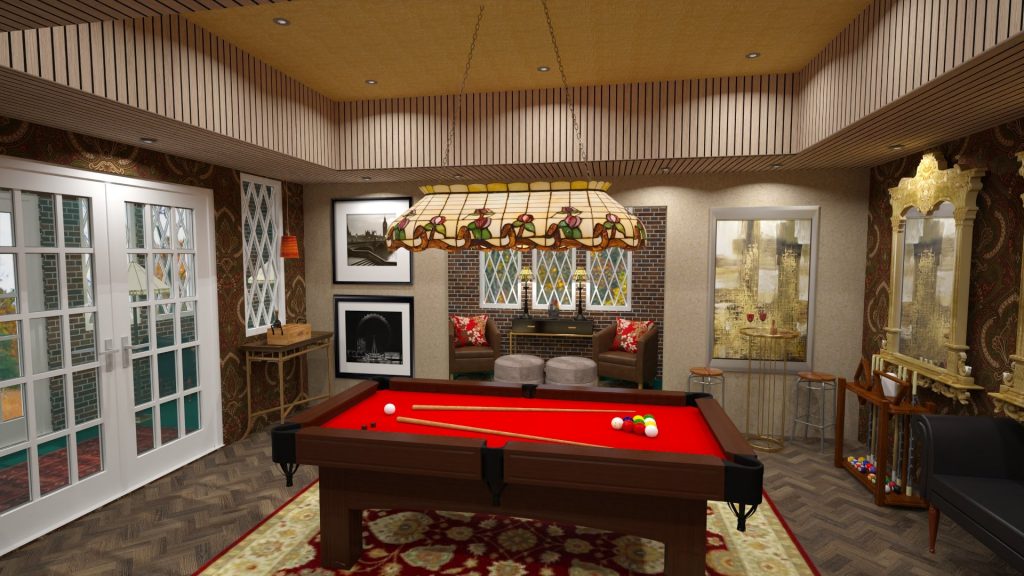 One would think that there are limited options when it comes to decorating your pool room…billiard tables all seem to look alike, and the typical decor features card-playing dogs or statues of Elvis. Not that there's anything wrong with those choices, after all, a life-size Elvis makes quite an impact. However, that style may not be for everyone. In fact, there are as many possible decor types and styles available for the billiard room as there are for any room in the house.
The Pool Table
Let us start with the main feature of the room, the pool table itself. While the ornately-carved billiard table may seem to be the most popular choice, there are many different styles offered by manufacturers today, from clean-looking modern tables to more transitional designs (including mission-style), to the more elaborate Victorian-era style that features ball-and-claw legs and elaborate corners. Further, the finish of the pool table and even the color of the pool felt are all design features that you can select, truly customizing your pool table to your own tastes. Remember that the billiard table is going to set the tone for the rest of the room, so remember that size and style are probably more important than price.
Game Tables and Chairs
If your billiard room is actually more of a game room, then certainly you will want an adequate game table and accompanying chairs. Game tables are different from dining or cafe tables in that they are typically square or octagonal and larger scale for game chairs to be used. Game chairs are bigger, leather chairs (usually arm chairs) and are sometimes mounted on casters. As it should be apparent, "gaming" furniture is really designed for comfort and easy game play, since the occupants could be sitting and playing for many hours. Nobody wants to get distracted from a good game of poker by uncomfortable chairs or a shaky table! The design of your table and chair set should be consistent with your pool table, of course.
A Bar or Counter
Billiard rooms aren't just for playing pool, of course. They are also a gathering place for family and friends. If your friends are like mine, chances are they will want a drink in their hand while they are playing pool, or even if they are watching other people play pool. So for those more adult-friendly billiard rooms, a bar is almost a necessity. The bar does not have to fill the room, it really just depends on your priorities for the space. If drinking, eating and entertaining are the primary raison d'etre for your billiard room, you may want a pretty good-size bar that runs the breadth or width of the room.

Many homeowners are increasingly enjoying having their own wine bar or craft beer bar, and both of these have their own distinct decor. For example, many in-home wine bars feature a grape motif, or vintage posters from vineyards and estates. Beer drinker like to emphasize the local nature of their beer and many feature stickers, coasters, and other memorabilia from their favorite breweries. The important consideration is make sure that you are consistent in your design from the playing area with the pool table all the way through to your refreshment area. Those poker-playing dogs might look a little funny next to an evocative poster of Châteauneuf-du-pape, don't you think?