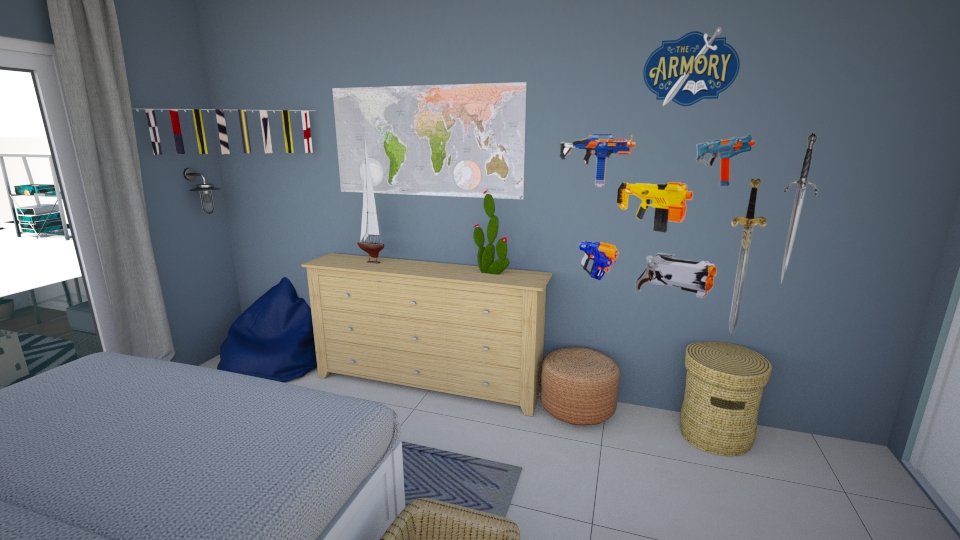 It can be quite hard to pick a color for your teenage boy's bedroom. One option is, of course, to just ask your teen which color he likes. If he does not have a preference or you want him to understand that his room is not getting a repaint every month, picking colors yourself can be an option. In this article, we will give you some hands-on tips to pick a color scheme he probably likes.
Navy, light or popping blue
Light and dark greys, or browns
The color of their favorite sports team
Navy, light or popping blue
Navy and light blue are two classics, and they go well with neutral or white accents throughout the room. The colors also match nicely with black or brown furniture. You could also pick a bright (blue) color combined with a more neutral beige. The combination of more neutral colors with one bright color can brighten up the whole room. This way the room will still look like a teenage room, without making it too childish.
Light and dark greys or browns
The combination of dark and light colors will give the room a lot of depth. The combination of light beige and dark brown can be combined with other decoration items, such as pillows or bedding. Light and dark greys are always in style and will make the room look modern. These colors can also be easily paired with a great variety of furniture styles.
The color of their favorite sports team
If your boy has a favorite sports team, ask him if he would like to have a more sports team-themed room. Often, they do not want their whole room dedicated to their sports team, but sometimes painting one wall as an accent in the room can do the job of expressing their fandom. It is a popular teen room makeover choice, thus might be something for your teen boy too.