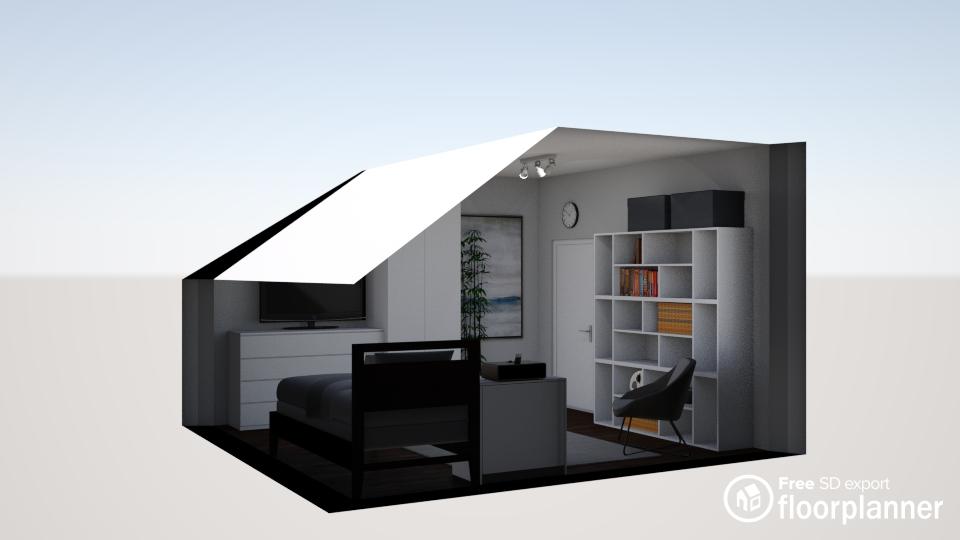 Bedrooms with a slanted wall are often seen as very unpractical, especially for tall people. However, it is not necessary to see the sloped wall as a disadvantage or limitation. Use these tricks and tips elevate your slanted wall bedroom:
Create storage underneath
Creative shelves
Highlight the slope with lights
Create storage underneath
The space underneath the slope is often lost since you cannot stand there. Instead of placing your bed underneath which creates an uncomfortable claustrophobic space, create storage underneath instead. If you are lucky you can find a drawer that fits underneath perfectly, if not, you can use a made-to-measure drawer. This way you not only utilize every inch of the room, but it also looks good!
Creative shelves or wall decorations
Instead of putting your shelves on a plain straight wall, think about placing your shelves on the wall next to the slanted wall, adjusting them to the slope. This was you create a playful idea, not only highlighting the slope but also making the most of the space. Another idea is putting your picture frames on the sloped wall, creating a frisky look.
Highlight the slope with lights
Instead of hiding the slope, or being bothered by it, try highlighting it with the correct lighting. Think about a string of lights along the wall or a spotlight on the ceiling focusing on the slope. By shifting this focus towards the slope, it becomes the art in the room, creating something different than your every-day bedroom. Especially when having applied wallpaper on this wall, it will become the focal point of the room.