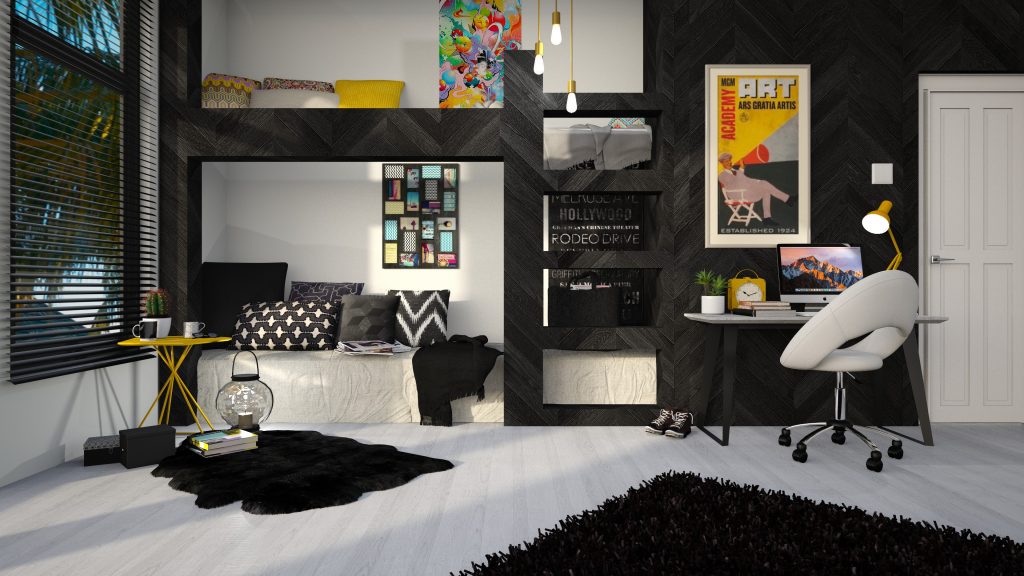 A small room does not have to be equal to space without any decorative items. For a teen, it is important to express themselves. This can be done in many forms. We will share some decoration tips to keep in mind when you are dealing with a small and dark room. Get your boy involved to be sure that the decoration is also to his liking.
Get several lumination options
Install small display areas
Brighten different zones or items in the room
Get several lumination options
To give the illusion of more space, adding several layers of light can do this trick. Besides creating optical more space, it is also a decision you leave up to your teen to create to his liking the right amount of light. Besides wall-mounted light, items that illuminate are great for small spaces. For example, an LED string of lights, desk light, nightstand light, LED lightbulbs are items to consider.
Install small display areas
Room for a teen to express themselves is important, as mentioned above. To give space to your boy to do this in his small area, floating shelves can be a great option. On these, he can put pictures or paintings he loves. If you do not like to drill holes in your wall, a small cabinet can also do the trick: he can place items on top and in the cabinet, especially when the cabinet is see-through.
Brighten different zones or items in the room
When it comes to a dark room, you have the opportunity to make some items or zones stand out. After all, it becomes a spotlight very soon if the other areas in the room are darker. When your teenage boy got a painting or poster he is very proud of, put a spotlight on it. If your teenager loves to play guitar, make sure the spot where he practices got a light on it: it will feel like being on stage! You can illuminate all the things important to him.