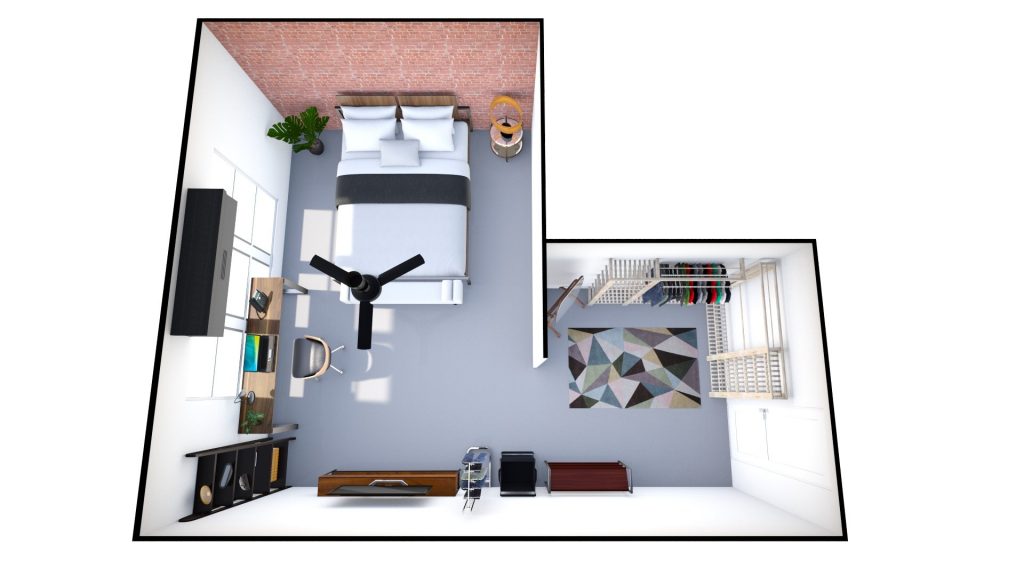 There are many ways to arrange your bedroom furniture. The following tips and tricks can be considered when arranging bedroom furniture:
Start with the largest piece of furniture
Using a dresser as a tv table to create extra storage and save space.
When sufficient room, a desk with a mirror can be placed for primping or working.
Place a small sofa or bench at the foot of the bed for convenient dressing.
Starting with the bed
When arranging bedroom furniture, start with the largest pieces first. Most often, this is the bed. It is recommended to place the bed against the wall opposite from where you enter or against the longest wall in the room. When possible, pick the wall without windows to place your headboard. This way you make sure that the light does not sneak past the curtains onto your bed.
Night desks
If the room is spacious enough, place night desks on both sides of the bed to increase storage space and to create a surface to place a lamp, a clock, or other bedroom necessities.
Additional tips
When choosing a spot for your tv, place it on the opposite side of your bed for easy viewing. Take into consideration where the power sockets are to place night desk lamps or charge your phone.