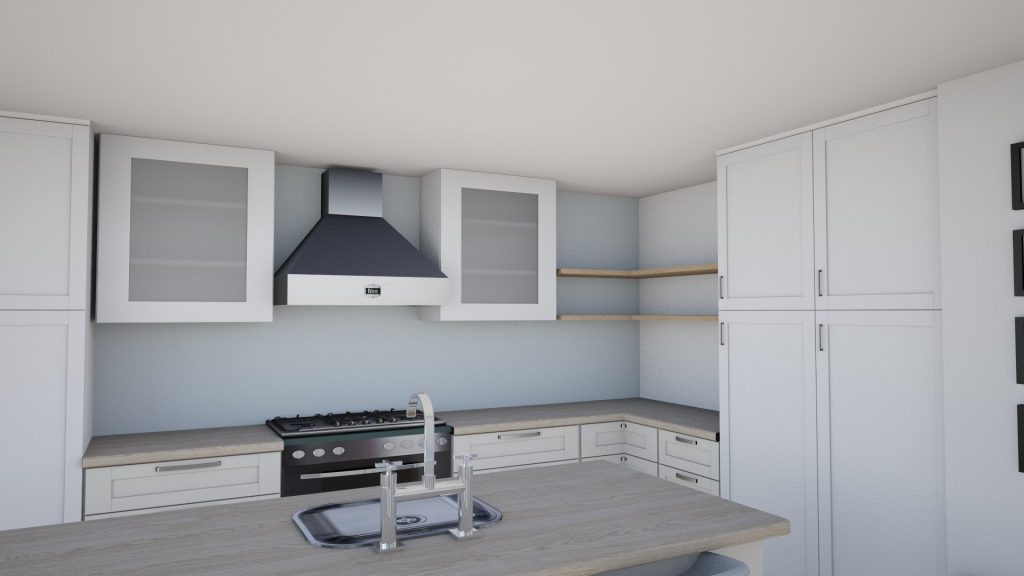 When custom made, kitchen cabinets can have any desired dimension. However, semi-custom or stock cabinets often have standardized dimensions that almost all manufacturers apply. No need to worry however, there is a large variety in stock sizes and many providers also have fillers and accessories to fill-up remaining space. In general, there are three different cabinets than can be categorized as:
Base cabinets
Wall cabinets
Tall cabinets
Base cabinets
The base cabinets are the foundation of the kitchen and provide the basis for the countertop, sink, dishwasher, and stove. In general, base cabinets are 34,5 inches tall and 35 to 36 inches including the countertop. The depth of the standardized cabinet is 24 inches and 25 to 26 with the countertop. The standard widths are 12, 18, 24 (often pull-outs with rolling racks ideal for spices), 30 (single basin sink), 33, 36 (double basin sink), and 48 inches, providing solutions for all kinds of kitchens.
Wall cabinets
Ideal for glasses, food, and other lightweight kitchenware. Standardized heights are 12, 15, 18, 24, 30, 36 and 42 inches. Cabinets that reach to the ceiling are often 48 inches while cabinets that have to fit above the fridge are often 12 or 15 inches. The cabinets have a depth of 12, 15, 18 or 24 inches. Ultimately, the widths are similar to those of base cabinets, ranging from 12 to 48 inches.
Tall cabinets
Also known as pantry cabinets or utility cabinets, tall cabinets are often placed next to the fridge and can even range from the floor to the ceiling. In general, the height of tall cabinets is 84 or 96 inches. The depth is 12 or 24 inches and the width 12, 24, or 36 inches. It is often recommended to apply the same height as the wall cabinets, having them either until the ceiling or a foot space in between.